Restaurant
Since 1950 "Rinelli" Restaurant has been distinguishing in the gastronomic regional background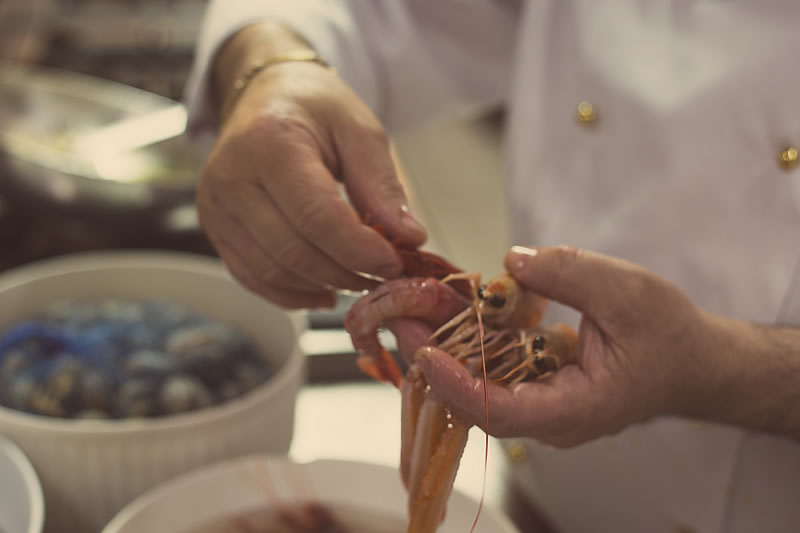 Since 1950 "Rinelli" Restaurant has been distinguishing in the gastronomic regional background for its extraordinary union of refinement and genuinity of its dishes. The using of traditional and typical Apulian products satisfy the most exigent tastes. A relaxing and amusing stay in a modern and comfortable Hotel will be the occasion to taste the traditional and typical flavours of the Apulian cuisine. Specialities: fish specialties, meat specialties, traditional local dishes, apulian cuisine.
Ask for availability
send us an availability request and you will be contacted as soon as possible
Recipe: Cavatelli with "Sorchio"
Ingredients (four people)
Oli of olive - garlic in slices - 500 gr. cavatelli - 1 Kg. shelled mussels - 500 gr. shelled clams - 300 gr. fresh clean prawns - 200 gr. fresh tomatoes - pensil and basin - a pinch of pepper.
Preparation
Put a pan with water for the pasta (salt it before). Put a pan on the fire with five little spoons of oil of olive and one slice of onion just a little golden and add the seafood (prawns, mussels and clams). Once the seafood open, add the little hill tomatoes, salt and pepper continuing the cooking for about 12 minutes. Drip the cavatelli before cooked and pass them in the pan together with the seafood and mix until they blend. .
Nutrizional values
Portions: 4 - Kcal. ( port.): 325 - T. Kcal.: 1.301 - Glucides (port.): 41,9 - T. Glucides (gr.): 167 - Lipides (port.): 16,1 - T. Lipides (gr.): 64 - Proteines ( port.): 9,7 - T. Proteines(gr.): 39.